What everyone else is doing.
January 4th, 2021 (09:03 pm)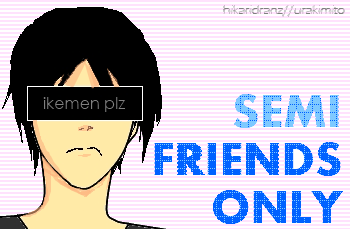 Some posts are f-locked, some aren't.
Add me if you know me.
Or if you think we can be friends \o/
Comment if you've added, because I don't often check the list of friends.

just short notes before you decide whether to add me :o it's not that short after all..
- I am not active on LJ. Not recently. What I do is type "hi" on the address bar up there and my f-page comes up right away so that's the only LJ stuff I read. Occasionally I visit some comm pages for updates.
- I fangirl. I like Amuse (especially Watanabe Shu, Totani Kimito, One Ok Rock). I like Kamen Riders. I like NND & Youtube utaites. I like Tenimyu. I like food. I like to sleep. I like to shop. I like money. I like a lot of things. I believe I'm easy to get along with (online at least lol)
- I may look like an anime fan who religiously watch animes to many people, but srsly? I hardly watch anime at all =w= maybe only a few. If you start blabbing about latest episodes of popular animes just watch me look at you with a :D? face.
- I shop online. a lot. and I order for people too. More info only available in friends-only posts.
- I'm the "anything goes" type so =w=b feel free to add.